Brand New-- with 30 Years Experience
Computers Cables and More
fills the need for those who run networks and/or repair computers. The store may be new, but owner Ruben Ramirez has over three decades working with computers, technology, and electronics. IT has been his passion for most of his life. It is fair to say he and the IT industry grew up together. Don't waste time walking all over an electronics mega-store or big-box hardware store. Come by Computers Cables and More and speak to Ruben. Advice is free! And knowing exactly what to use saves you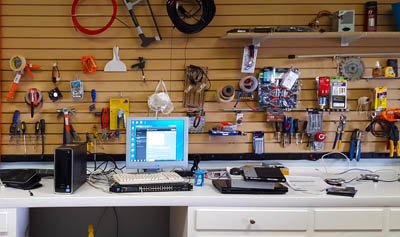 time, money, and frustration. For example, do you need network cables? Is CAT 6 or CAT 5e best for your job? What other parameters need to be considered? Talk to Ruben. He knows this stuff. After all he has spent 15 years as co-owner of one of El Paso's most trusted computer repair and networking companies.
But like most visionaries, there came a time for Ruben to be completely at the helm. Computers Cables and More is a company dedicated to their clients and customers. They love their work, and it shows in everything they do. The store is brightly lit and well organized. There are hundreds of items for your cabling, networking, and repair needs. Like the online store, everything is easy to find. (But the retail store's search button wears glasses and offers a wealth of information for those asking.) Browse the online store (we love shopping online, too). Come by for advice for products that will help your project and inspire you for your next..
Services--In the Shop, on Location, and Online (Remote Access)
Ruben offers computer repair. Bring in a computer for a free estimate regarding time and cost. Ruben can also go to your location to fix computer and networking problems. Many software glitches can be solved by secure remote access via the internet. Remote repairs saves down-time and money. It keeps your equipment at the office and requires no travel time on your part. He also provides "tune-ups" for slow computers as well as hardware and software upgrades.
Networking and Cabling
Is it time to create a new network or expand an existing one? Computers Cables and More provides wired and wireless network installations and service. They also provide audio and video cabling installation and service. We work on surround sound systems, public address systems, and wiring for security cameras as well. Ruben and crew are ready to help on any kind of cabling or networking. Every item Computers Cables and More uses in their installations and repairs is also available for purchase by installers and do-it-yourselfers. Come by today or purchase online! Major credit cards and PayPal welcome.